OK, so my neighbor boy turned 16 this week, so I promised him I would take him and his friends hiking on the Butterfield. His mother got him a really nice Northface pack, and he was really excited about it. I have taken him hiking enough that he know what and how to pack, so I wasn't worried about him. I took his 2 friends and they showed up with 2 flat out full hue duffel bags!!! I asked hem where their backpacks were, and they told me that they were going to use the bags, and the straps as shoulder straps. I kinda gave them a puzzled look, and said "well, what do you have in them". These boys had all kinds of junk, Amanda asked them what they had to eat, and one boy said "I have 2 fudge rounds and a sleeve of crackers." Luckily for him she had pity on the poor boy and gave him some Raman noodles and a lot of bars. I told them that they better keep up, and that even though we were not going very far the first day, we still had to get to camp before dark. They both told me that they were in really good shape from football, and that they could keep up no problems (this was not true

).
We got to camp, and I couldn't help but laugh at how ill equipped these guys were. Now, they were not in danger, but they sure were funny. My neighbor boy was using my old non-asym Hennessey hammock and its tarp, and the boys were sleeping under a heavy tarp on the ground. It was really funny when one of the boys pulled out his big Ole pillow from home!!! As you can see, I personally like the toiletry bag, complete with the teenage boy necessity, Axe body spray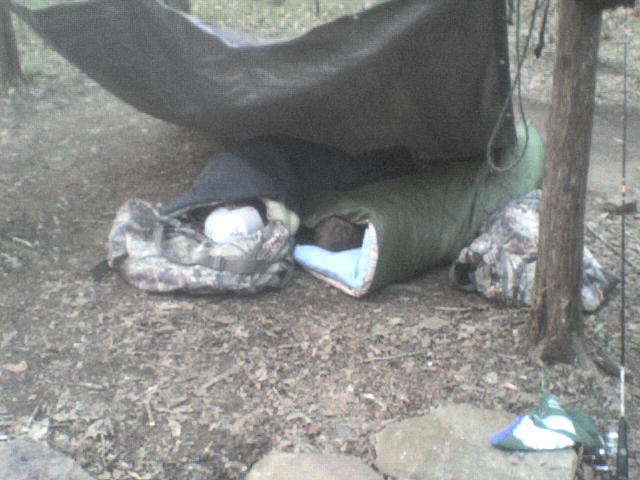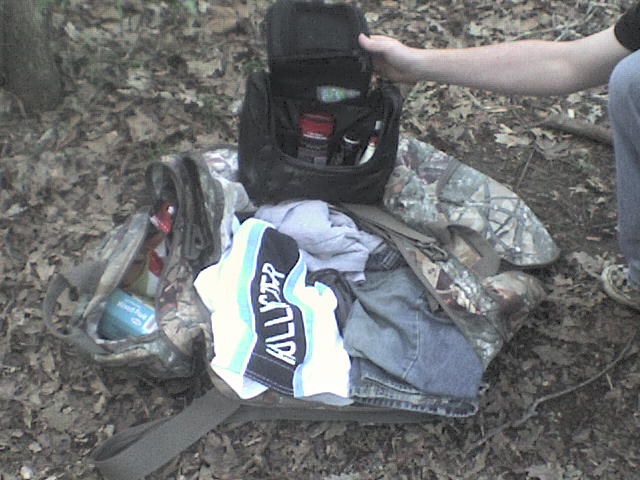 I got to try out my new DIY bugnet hammock that I had made that day. It is a bottom entry like a Hennessey, but it sleeps like a top loader, super comfy, and no bugs!!!!, I call it the GREEN LANTERN. I put my DIY 5oz. Climashield XP underquilt on it, and I stayed toasty, toasty. It was so nice!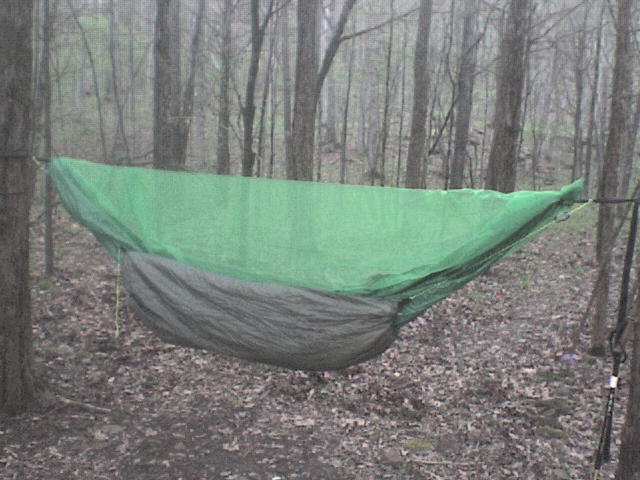 I put up my DIY 10X12 Cat Tarp that my wife made me, and I tried a new kind of set up, and I really liked it. It kept the wind off, and I still had a view from my hammock.
The boys made it out OK, they only did 11 miles, but they sure learned a lesson

Here is a pic of the burned section of Devil's Den, you really cannot tell that anything burned really.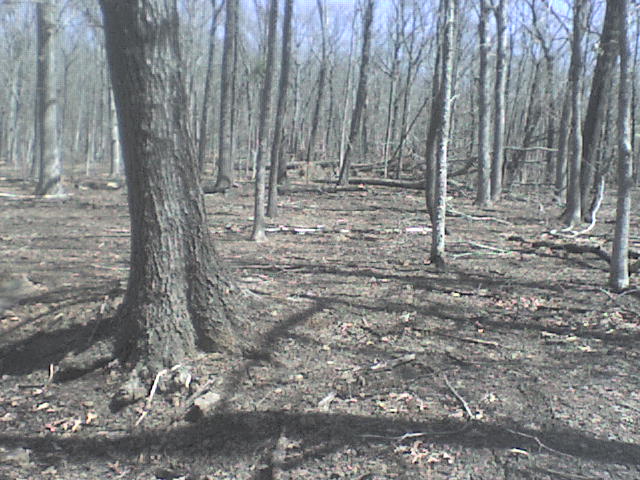 Mountain Man




Posts

: 831


Join date

: 2008-06-24


Age

: 39


Location

: Northwest Arkansas



PM

Where do you buy your climashield?
Backcountry Explorer




Posts

: 132


Join date

: 2009-01-30


Age

: 68


Location

: Daingerfield, TX



I get my insulation from thru-hiker.
I have gotten from other places, but they have not always had good quality. AYCE at thru-hiker has always had great stuff, and EXCELLENT customer service!!!!
Mountain Man




Posts

: 831


Join date

: 2008-06-24


Age

: 39


Location

: Northwest Arkansas





Similar topics
---
Permissions in this forum:
You
cannot
reply to topics in this forum